A playground in Babulnath in south Mumbai was leased to a school by the municipal corporation. The school took over the place seemingly with honourable intentions. Gradually, the veneer began to peel. The badminton court was let out for a fee; the ground was let out for weddings and parties. Over time, the playground had reinvented itself as the geographical extension of the school.
That, however, was not what was envisaged when the Municipal Corporation of Greater Mumbai (MCGM) gave it out. The idea was to maintain, and protect the space on behalf of the public.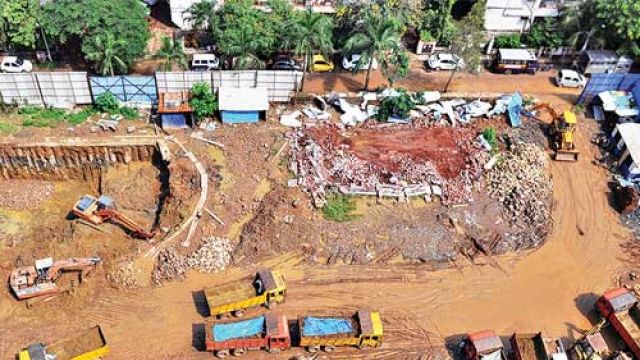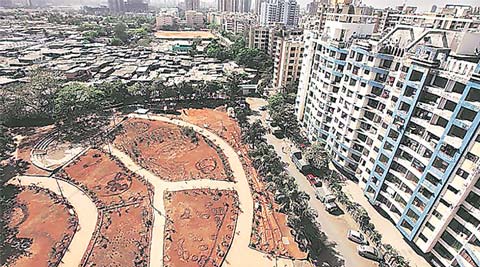 As a city, Mumbai lacks a comprehensive vision for its few-and-far-between open spaces – 1,068 plots measuring 1,200 acres, amounting to one square metre per capita as against 25 sq metres per capita in New York, and nine metres prescribed by the World Health Organisation.
So how Municipality (local body) is playing the spoilsport ?
Far from mapping out these precious green lungs and ensuring they ventilate the city, they are readily leased to the first available customer, mostly to allow the MCGM to get it off its charter of duties.

After all, as the corporation says, taking care of the open spaces does not fall under its obligatory roster.
Rather, it's a discretionary activity, and clearly not important.
All that it expects from its lessees for such spaces – also called RGPG for recreation grounds, gardens, parks and playgrounds – is a perimeter fence, a security guard and a toilet; the rest was up to its imagination.
Toh filhaal kya stithi bani huyi hai ?
Given their orphan status, the city's open spaces or whatever is left of them after their takeover by the private parties, are in shambles.
The adoption is renewable every five years but none of the truant agencies misusing public space ever considered that as a deterrent in their ambitious plans for a virtual takeover of the land.
The

caretaker policy, developed in 1991, permitted construction on 15 percent of the area, such as club, gymnasia, etc.
The history of the adoption and caretaker policy of Mumbai of public open spaces is criss-crossed with stories of brazen flouting of the rules like.
3.
controlling public access or restricting their hours of free access,
4.
exploitation for commercial benefit,
5.
neglect of maintenance,
6.
poor or no security leading to encroachment, etc.
Many a handover turns into a takeover.

It is common to find the agencies managing the open spaces affiliated to politicians.

The MIG Club in Bandra is a case in point. In many clubs, the membership fee runs into lakhs of rupees,

which simply amounts to usurping of public ground for private benefit.

So adoption policy has systematically turned into an abduction policy...!
toh HUNGAMA toh banta hai...chalo dekhte hai kya hua kaise hua !!
This is the primary reason for the hue and cry over the public open spaces policy, announced by the MCGM, and now withheld by Maharashtra chief minister Devendra Fadnavis.

The adoption policy was first mooted in 2005 and stayed in 2007 by the then chief minister, the late Vilasrao Deshmukh, after a public outcry.

This is its second innings, and could well go the same way. From 2007-2012, there was no policy in place for open spaces.

It was only in September 2012 that the Maharashtra government formed a committee to prepare a comprehensive policy framework for the planning of open spaces.

The committee gave its report in April 2014.

The policy was adopted on 14 January, 2016, and stayed by Fadnavis two days later.
Accha POLICY hai ..usme kuch acchi cheezein bhi hongi..aur buri cheezein bhi hongi !!
pehle ACCHI cheezein dekhte hai !
The new policy favours only adoption and bans any construction except a toilet block and perhaps a shed if necessary.
It also attempts to do away with restricted access, a common problem with the implementation of the policy so far.
Preference would be given to local resident associations for adoption in a bid to ensure unrestricted access to local residents.
Children and senior citizens would not be charged for the use of such an open space.
Norms have been set for the entry fee too.
The adopting agencies would come under the Right to Information Act, 2005. This would make it easier to identify mismanagement, apart from working as a deterrent.
chalo ab FLAWs dekhte hai ..aur Indian Media jaisi BURAI karte hai !!
The policy mandates a monitoring committee and a scrutiny committee for applicants, both made up entirely of officials.

There are no citizen activists or experts on either.

Given the MCGM's record of keeping vigil, this doesn't inspire confidence.
What if the monitoring doesn't work? In 2002, MCGM had moved court against Matoshree Arts and Sports Club, Jogeshwari, and Kamala Vihar Sports Club, Kandivli, for not handing over the plots back to the municipality after their blatant misuse. Even after a favourable court order, the BMC still has to get the grounds back.
OPPOSITION wale ...CRITICIZERS kya bol rahe hai ?
Why does the MCGM want to give away public space to private entities? There is no need to create a third party interest. It has enough funds to manage them on its own..
Raj Thackeray say's....The entire policy is tailor-made to suit the builders' lobby. These builders will take over the ground, construct clubs and restrict the entry of the common citizens, (interestingly he himself is a BUILDER ! )
MORAL OF THE STORY...way forward !!
An omnibus policy that lays down the broad template for the upkeep of such plots woven with the peculiar mix of individual requirements is the most suitable answer.

Given the chequered history of adoptions and caretaking, no private players should be involved.

If the city is to live, it has to breathe, and if it has to breathe, it needs its few green lungs intact, not frittered away to whoever comes forward.
(Note:- This issue is limited to Mumbai and UPSC may not directly ask something on this ..but it is always better to know what are the issues going on in mega cities as it comes under the heading URBAN GOVERNANCE ...this topic may be of help for people with Public Administration and people from Maharashtra who get selected for Interview this year...!! )