Indian Culture Special Part - 1




# 1. CHANNAPATNA Handicraft
Channapatna handcraft

can be traced to the reign of Tipu Sultan who invited artisans from Persia to train local artisans in the making of the wooden toys.
---
The traditional wooden toy-and-doll craft, with perfected lacquer-ware of Channapatna (on the Bangalore-Mysore highway).
It is protected by a

geographical indication

(GI) tag but today a crisis stares the industry in the face.
The art is known for its mix of

vegetable dye and food grade pigments

, with natural shellac insect residue.
It obtained from the

trees of Amaltaas and Kusum

in West Bengal, Jharkhand and Orissa.
Although Channapatna's toy industry survives, what pains is the near-absence of lacquering that attaches a heritage value to it.
#2 Martial dances of India
Martial dances of India
Chholia of Uttranchal,
Kalari paittu of Kerala,
Thang-taa of Manipur
Gatka of Punjab
Paika of Orissa
Pang Lhabosol of Sikkim
Kalarippayattu (
asked in UPSC Prelim 2014
) :
Kalarippayattu is a famous Indian martial art from land of attraction Kerala and one of the oldest fighting systems in existence.

It is practiced in most of the part of south India.

A kalari is the school or training hall where martial arts are taught.

It includes strikes, kicks and some weapon based practiced,

Footwork patterns is most important key in Kalarippayattu.

It is the best Indian martial art that has been used in many movies to make it popular, like Ashoka and The myth.
Silambamis, a weapon-based Indian martial art from Tamil Nadu.

Every states has it own style of martial arts.

A wide variety of weapons are used in silamban, some of which are not found anywhere else in the world.

Silambam art also used animal movements of snake, tiger, eagle forms and footwork patterns is play a key role here as well.

Another part of Silambam is Kuttu varisai, it is the unarmed kind of martial art.
Gatkais weapon-based Indian martial art basically created by the Sikhs of Punjab.

There are many weapons used in Gatka like, Stick, Talwar, kirpan and kataar.

The attacking and defense methods are based upon the positions of the hands feet and nature of weapons used.

It is also displayed during the different celebrations or at fairs in Punjab.

The sport form is played by two opponents wielding wooden staves called

gatka

. These sticks may be paired with a shield. Points are scored for making contact with the stick.

The other weapons are not used for sparring, but their techniques are taught through

forms training.

It is based on the basic principle of unification of the mind, body and spirit in a rhythm of life to train a saint-soldier to be able to defend himself/herself.
It is unarmed martial art from the oldest city of India

"Varanasi".

Technique used in this martial arts are punches, kicks, knees and elbow strikes.

This style is a complete art of physical, mental and spiritual development.

This art is very rarely visible but was very popular in middle age.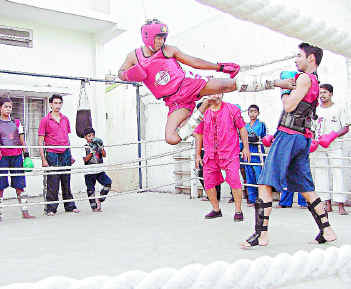 Thang Ta is popular term for the ancient Manipuri Martial Art also known as HUYEN LALLONG.

Manipuri martial arts with swords and spears, is a strong yet gracefully sophisticated art.

The Manipuri art of

huyen lalong

was once practiced by the state's indigenous hill tribes who would engage in duels governed by strict rules of conduct.

The armed component called

thang-ta is named after the system's main weapons, the thang

(sword) and

ta (spear). Practitioners spar through cheibi gatka

in which a foam sword is used together with a shield.

Unarmed huyen lalong is called

sarit-sarak

and is used in conjunction with thang-ta when the fighter loses their weapon
Lathi is an ancient armed martial art of India.

It also refers one of the world's oldest weapons used in martial arts.

Lathi or stick martial arts practiced in Punjab and Bengal region of India.

Lathi still remains a popular sport in Indian villages.
Mardani Khel is an armed method of martial art created by the Maratha.

This traditional martial art of Maharashtra is practiced in kolhapur.
Pari-khandaa style of sword and shield fighting from Bihar.

This art is created by the rajputs.

Pari-khanda steps and techniques are also used in

Chau dance

.
-------------------------------------------------------------------------------------------------
#3 Folk Dance in India
.
Classification of Folk Dances of India:

Hikat Folk Dance (J & K):
--------------------------------------------------------------------------------
#4 Famous Sarees in India
Types of Sarees – Places Famous for it
Paithani – Paithan (Maharashtra)

Tanchoi silk – Varanasi

Pochampalli – Hyderabad

Chanderi – Chanderi (MP)

Muga silk – Sualkuchi (Assam)

Sambalpuri – Sambalpur

Jamdani – Bengal and UP

Baluchari – Murshidabad (W.Bengal)


KALAMKARI

Painted & printed textiles of AP

Kalamkari came from brush like instrument like "

Kalam

": used in medieval period to draw pattern on fabric with natural colour.
The clothes from the former school were influenced by

Persian painting and the tenets of Islam and Kalahasthi

school reproduced scenes from Hindu mythology
The art of Kalamkari belongs to

2 distinct schools

– Masulipatnam (muslim rulers) & Srikalahasthi (Hindu temples)


APA TANI WEAVES:

Apa Tani tribe

– lower Subansiri dt of Arunachal Pradesh

Home – Ziro in Apa Tani plateau located in North of Itanagar

Women – weaving and one or two portable loin loom

Traditional colours

– Red, Green and Yellow obtained from leaves, roots, creepers and the barks of trees

Cloth – use of broad stripes alternating with narrow ones

Other geometric patterns –

extra weft technique
Baademeri Print


Manifestation of Rajasthani folk art on textiles

Recognized by their motifs, boldness of designs and stark colours

Chief centre of production – Sindh: Hindus of Badmer are engaged in this art
-------------------------------------------------------------------------------------------------------
# 5 Languishing Crafts in India
| | | |
| --- | --- | --- |
| | | |
| | | |
| | | |
| | | |
| | | |
| | | |
| | | |
| | | |
| | | |
| | | |
| | | |
| | | |
| | | |
| | | |
| | | |
| | | |
| | | |
| | | |
| | | |
| | | |
| | | |
| | | |
| | | |
| | | |
| | | |
| | | |
| | | |
| | | |
| | | |
| | | |
| | | |
| | | |
| | | |
| | | |
| | | |
| | | |