This is all you wanted to know series which I have started in which 10 topics will be discussed on YOUTUBE ..although I am also sharing the content in text form for convenience !!!
#1. Babasaheb Ambedkar
1.
Bahishkrit Hitakarini Sabha
was the first organization formed by Dr. Ambedkar in 1924.
2.
The First Round Table Conference was convened in London on November 12, 1930. The depressed classes were represented by Dr. B.R. Ambedkar and Rao Bahadur Srinivasan.
3.
Ambedkar formed the
Independent Labour Party (ILP)

in August, 1936
, which participated in the provincial elections of Bombay and won 13 seats out of 15 seats reserved for scheduled castes. Independent Labour Party was transformed by Ambedkar as the
All India Scheduled Castes Federation in 1942
. It was a political party which participated in the general elections of 1946 but was completely defeated.
4.
Ambedkar was opposed to the strike by civil servants
. For him strike is nothing more than a breach of contract of service. It is only a civil wrong not a crime.
5.
In July 1942, Ambedkar was appointed the member of Executive Council of Viceroy as a Labour member. He resigned from this post in May 1946.
6.
In January, 1920,Ambedkar had also started a weekly paper called '

Mooknayak

' (Leader of the Dumb) to champion the cause of the depressed classes in India.
7.
Some of his famous books include-

The Untouchable: Who are They and Why They Have Become Untouchables

;

Buddha and His Dhamma

;

'The Rise and Fall of Hindu Women

',

'Emancipation of Untouchables'

,

'The Evolution of Provincial Finance in British India'

;

'Pakistan or Partition of India

', 'Thoughts on Linguistic States', etc.
8.
Ambedkar was
appointed as the first Law Minister of Independent India
, but he resigned from the Cabinet on September 1951 due to differences with Nehru on the Hindu Code Bill.
9.
Ambedkar was first elected to the Constituent Assembly from Bengal but he lost his seat after the partition
. However, he was chosen by the Bombay Congress Legislative Party in place of M.R. Jaykar who resigned earlier.

It should be noted that he was defeated earlier in the election of Constituent Assembly in Bombay

. It is interesting to note that in his interview with Cabinet Mission on April 5, 1946, Ambedkar opposed the idea of Constituent Assembly as he feared it would be dominated by High Caste Hindus.
10.
Ambedkar was elected as the

Chairman of the Drafting Committee of the Constituent Assembly.

He is called the father of the Indian Constitution. However,
K.V. Rao was of the opinion that Ambedkar was not the father

but mother of the Indian Constitution
as the vital decisions about the Constitution were taken by Nehru and Patel, and Ambedkar followed the same.
11.
Ambedkar was defeated in the election to the Lok Sabha in 1952 mainly due to his advocacy of partition of Kashmir. However, he was elected as a member of Rajya Sabha from Maharashtra in March 1952. In May 1954, he again contested in the by-election to Lok Sabha but was defeated again. He realised that a party which has no base in rural areas has no future.
12.
Ambedkar considered the
Right to Constitutional Remedy as the

Soul of the Constitution
and
Union of India as "indestructible union of destructible states".
13.
Ambedkar converted to Buddhism on October 14, 1956. He died on December 6, 1956 at Delhi due to severe diabetic neurosis.
14.
After his death, his political party
Scheduled Caste Federation was renamed as

Republican Party of India

in 1957 by his followers.
--------------------------------------------------------------------------------------------------------------------------
Masala bonds are rupee denominated overseas bonds. Here are key notable points about Masala Bonds.
·
Such bonds are Rupee denominated. When an Indian company issues Rupee denominated Bond, it is obviously

shielded against the risk of currency exchange rate aberrations

. The foreign exchange risk is on foreign investors rather.
·
The key advantages of Masala Bonds are as follows:
·
Firstly,
they help to internationalize the Indian Rupee and deepen Indian Financial system.
·
Secondly,
they diversify the funding resources of Indian companies.
·
Thirdly
, they may help to bring down the cost of borrowing and cost of capital.
·
Fourthly,
allowing Masala Bonds is considered to be a small step towards full convertibility of Rupee.
·
Fifthly, such bonds would support towards stability of rupee.
·
First Masala Bond was issued by International Finance Corporation (IFC) in 2013. So far, no Indian company has released such Bonds.
·
The analogous bonds of China are called "Dim sum" while those of Japan are called "Samurai" bonds.
·
The Indian companies are allowed to raise a maximum of $750 million per year through masala bonds with a minimum maturity of five years.
-----------------------------------------------------------------------------------------------------------------------------------
The Project SAKSHAM is a New Indirect Tax Network (Systems Integration) of the Central Board of Excise and Customs (CBEC).
It seeks to bolster the information technology network for the new Goods and Services Tax (GST) regime that the Union Government intends to roll out from 1st April 2017.
The Project SAKSHAM will help in
·
Integration of CBEC IT systems with the Goods and Services Tax Network (GSTN).
·
Extension of Indian Customs
Single Window Interface for Facilitating Trade (SWIFT)
·
Other taxpayer-friendly initiatives under Digital India and Ease of Doing Business of CBEC.
·
With the implementation of GST, the Union government expects the number of taxpayers under indirect tax laws to increase to
about 65 lakh from the current 36 lakh.
·
CBEC's IT systems need to integrate with the GSTN for processing of registration, payment and returns data sent by GSTN systems to CBEC.
·
It will also act as a front-end for other modules like audit, appeal and investigation. However, there is no overlap in the GST-related systems of GSTN and CBEC.
·
IT infrastructure is also required for continuation of CBEC's e-services in customs, central excise and service tax, implementation of taxpayer services, extension of SWIFT initiative and integration with government initiatives such as e-Taal, e-Nivesh and e-Sign.
------------------------------------------------------------------------------------------------------------------------------------
The Income Tax department is planning to implement the first phase of 'Project Insight' from May 2017 to monitor high value transactions, with a view to curbing the circulation of black money.
This project has been initiated for data mining, collection, collation and processing of such information for effective risk management with a view to widening and deepening tax base.
·
'Project Insight' is an integrated platform
that will utilize vast amount of information easily available on social media to conduct raids online rather than traditional way of conducting random searches, known as tax raids.
·
It will use
data mining, big data and analytics to scoop out tax evaders from social media platforms like Facebook, Twitter and Instagram.
·
The Permanent Account Number (PAN) will be the unique identifier is used by the Income Tax department to link and analyse various transactions relating to the tax payers.
·
This will enhance the department's ability to monitor the flow of funds and will provide an audit trail of high value transactions and curb circulation of black money
·
The
'Project Insight' will be implemented in phased manner during the period 2016-2018
. For its implementation, the IT department has signed a contract with L&T Infotech Ltd.
·
It will also be leveraged for implementation of Foreign Account Tax Compliance Act Inter Governmental Agreement (FATCA IGA) and Common Reporting Standard (CRS).
Significance of 'Project Insight'
·
It will help in catching tax evaders in a non-intrusive manner using technology and without traditional intrusive methods like search and seizure.
·
The integrated platform will play a key role in widening of tax base and data mining to track tax evaders.
·
The reporting compliance management system of project will ensure that third party reporting by entities like banks and other financial institutions is timely and accurate.
·
It will also set up a streamlined data exchange mechanism for other government departments.
-------------------------------------------------------------------------------------------------------------------------------------
#5 First Titanium Project in India
The first titanium project of India has started its test production Ganjam district of Odisha. The project has been established by Saraf Group.
This is first of its kind titanium plant and the only one in the country. During the test run, one of its four furnaces became functional.
·
After inception, this plant is expected to produce 36,000 tons of titanium slag and 20,000 tons of pig iron per year.
·
The raw material of the plant ilmenite would be procured from Odisha Sands Complex (OSCOM), a unit of Indian Rare Earths Limited (IREL) in Ganjam district of Odisha as well as a private company which has its unit in Srikakulam in Andhra Pradesh.
Earlier in August 2015, Indian Space Research Organisation (ISRO) had fully commissioned and started commercial production at the first indigenous Titanium Sponge Plant at Chavara in Kerala. This plant had commercially started producing Titanium Sponge exclusively for the space programme and strategic areas especially in aerospace and defence areas. With this commissioning India became the seventh country in the world producing Titanium sponge commercially.
--------------------------------------------------------------------------------------------------------------------------------
On 31st October 2014, Central government started FASTag Electronic Toll Collection (ETC) across 45 toll plazas on the Mumbai-Delhi corridor on the Golden Quadrilateral..

FASTag ETC is an advanced programme for making the payment electronically on highway tolls without stopping the vehicle at the toll plazas.

This system will remove logistic inefficiencies at toll plazas and has the potential of saving Rs 60,000 crore in terms of time and fuel bills.

Centre has asked state governments to come forward and adopt this system and use it free of charge.
How FASTag
Electronic Toll Collection (ETC) system works?
·
Under ETC system, vehicles will be affixed with a prepaid 'Radio Frequency Identification Device' tag known as FASTag. It will be fixed on the wind shield of the vehicle.
·
The RFID Tag on windshield will be read by the readers fitted in the dedicated ETC lanes of toll plazas after vehicles passes through toll plazas.
·
After the entry of vehicle passing through toll plaza is done, ETC will deduct an appropriate amount depending upon the class of vehicle from the account of the user. Thus, complete process of payment will be automated.
·
The prepaid accounts will be created at the
Central Clearing House set up by banks and their franchises or agents and at point of sales near the toll plazas.
Similar highway tag brands are available in developed countries with different names like
·
Eazee Pass, SunPass in the US.
-------------------------------------------------------------------------------------------------------------------------------------
The Indian Railways has initiated process to launch the Terrain Imaging for Diesel Drivers- Infrared Enhanced Optical and Radar Assisted (Tri-NETRA) system to avoid train accidents.
The system will be installed on locomotives for enhancing the vision of Locomotive Pilots in inclement weather.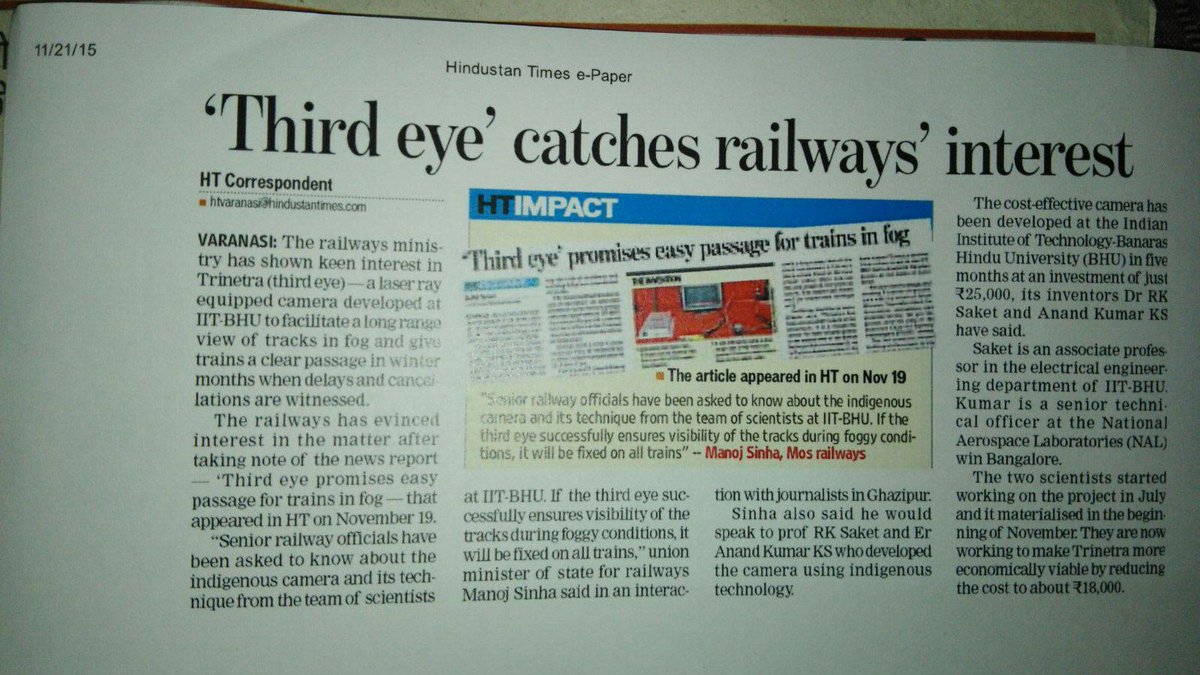 Key Features of Tri-NETRA system
·
The device uses infrared and radar technology to collect signals up to a distance of 2-3 km and displays the information (composite video image) on a screen fitted inside the locomotive.
·
The Tri-Netra will alert the drivers of any physical obstruction on railway tracks ahead and thus give ample time for the driver to apply the brakes to prevent train accidents.
·
It will be very useful during fog, heavy rain and nights, when drivers have to constantly look outside the locomotive to judge the condition.
·
Three components of the system:
It is made of high sensitivity
infra-red video camera, high-resolution optical video camera and a radar-based terrain mapping system.
These three components shall act as three eyes (Tri-Netra) of the Locomotive Pilot.
·
The concept of TRI-NETRA was developed by Development Cell under the guidance of Member Mechanical, Railway Board.
·
Specifications and design of critical components of the system will be approved by the Research Designs & Standards Organisation, the railways research arm.
·
TRI-NETRA system is based on technology employed by fighter aircrafts to see through clouds and operate in pitch darkness.
·
It is also based technology used by naval ships in mapping the ocean floor and navigating in the night.
----------------------------------------------------------------------------------------------------------------------------------
Union Government on 1 April 2015 launched
Faster Adoption and Manufacturing of Hybrid and Electric vehicles (FAME) – India Scheme.
The scheme was launched as part of the National Mission for Electric Mobility to boost eco-friendly vehicles sales in the country.
Facts about FAME India scheme
·
Objective-
to support the hybrid or electric vehicles market development and its manufacturing eco-system in the country in order to achieve self-sustenance in stipulated period.
·
The overall scheme is proposed to be implemented over a period next 6 years i.e. till 2020.
·
It envisages providing Rs 795 crore support till 2020 for the manufacturing and sale of electric and hybrid vehicles.
·
It also seeks to provide demand incentives to electric and hybrid vehicles from two-wheeler to buses.
·
Implementation-
It will be implemented in phases. The Phase-1 will be implemented over a two year period in FY15-16 and FY16-17.
·
Based on the outcome and experience from the Phase-1, it will be reviewed for implementation after 31 March 2017. Then appropriate fund will be allocated for future.
·
Four focus areas of scheme-
Technology development, Pilot Projects, Demand Creation and Charging Infrastructure.
·
In the first two years Rs 260 crore and Rs 535 crore will be spent on the focus areas.
The Department of Heavy Industries under the aegis of Union Ministry of Heavy Industries will be will be nodal department for the scheme.
---------------------------------------------------------------------------------------------------------------------------------
------>>> The Department of Pension & Pensioners' Welfare has initiated scheme in January 2014,
"Sankalp" which aims at channelizing skill, experience and time available with retired government servants into meaningful, voluntary contribution to society.
This would add to the social capital of the country and at the same time restore dignity and purpose to life post-retirement.
------>>> HIV awareness -- 2008
-----------------------------------------------------------------------------------------------------------------------------------
Anek

ā

ntav

ā

da meaning

"

non-absolutism,

"

is one of the basic principles of Jainism that encourages acceptance of relativism and pluralism.

According to this doctrine, truth and reality are perceived differently from different points of view, and no single point of view is the complete truth.
·
Anek
ā
ntav
ā
da is literally the doctrine of
"
non-onesidedness
"
or
"
manifoldness;
"
it is often translated as "non-absolutism."
·
As opposed to it, ek
ā
nta (eka+anta
"
solitary attribute
"
) is one-sidedness.
·
Jains compare all attempts to proclaim absolute truth with adhgajany
ā
yah or the
"
maxim of the blind men and elephant.
"
·
In this story, one man felt the trunk, another the ears and another the tail. All the blind men claimed to explain the true appearance of the elephant, but could only partly succeed, due to their narrow perspectives.