#1 PAIKA REBELLION
On April 16, 2017, Prime Minister Narendra Modi honoured in Bhubaneswar descendants of 16 families associated with what is known as the Paika rebellion of 1817. Here's an explainer about the little-known but bloody rebellion of Odisha against British colonialism.
What is Paika rebellion?
When the British started tinkering with the revenue system in 1803, the farming community of Odisha rose in rebellion.

At that critical juncture, Bakshi Jagabandhu Bidyadhar — the military chief of the King of Khurda — led his motley army of Paikas forcing the British East India Company forces to retreat.
The rebellion came to be known as Paika Bidroh (Paika rebellion).
When did it take place?
The rebellion, by the landed militia of Khurda called Paiks, predates the first war of independence in 1857 but did not get similar recognition.

It took place when the British East India company wrested the rent-free land that had been given to the Paiks for their military service to the Kingdom of Khurda
Why does Mr. Modi honour people associated with the rebellion now?
It's 200 years since the army led by King of Khurda revolted against the British on April 2, 1817.

The rebellion had been flagged by Finance Minister Arun Jaitley's budget speech this year where he said that "two hundred years ago in 1817, a valiant uprising of soldiers led by Bakshi Jagabandhu [Bidyadhar Mohapatra] took place in Khurda of Odisha.

We will commemorate the same appropriately."
Google is celebrated with a doodle the 130th birth anniversary of one of the big names in 20th century Indian art, Jamini Roy.
A graduate from the Government College of Art, Kolkata, Roy was a pupil of Abanindranath Tagore, the creator of 'Indian Society of Oriental Art'. Roy was born in Beliatore village of Bankura district in 1887.
He started his career spanning over six decades as a commissioned portrait artist but soon gave up and began experimenting with Indian folk art. He took lessons from

patua, a community known for their traditional occupation of painting idols, to better his craft at Kalighat paintings.
Some of his other world famous work includes,

'Ramayana' a magnum opus spread across 17 canvases; 'Gopini and two Companions'; 'Mother and Child'; 'Bengali Woman'; and 'Three men in boat'

.His work, however, wasn't limited to painting alone. His wooden sculptures, rooted in Indian villages, reflect the traditional art of Bengal. The quintessential 'Jamini Roy' work exhibits bold colours of red, yellow ochre, blue, and white. Roy brought versatility and emotion to folk art. While a painting of a Santhal woman oozes sensuousness, the 'Three Pujarinis' are very traditional looking almond-eyed women.
Jamini Roy received many awards and accolades, including the Padma Bhushan in 1955. In 1976, the Archaeological Society of India declared him one of "Nine Masters" to be treated as treasure. Roy passed away in 1972.
Teesta River is

lifeline of Sikkim and makes a border between Sikkim and West Bengal before joining the Brahmaputra as a tributary in Bangladesh.

The total length of the river is 315 kilometres .

It originates at

Tso Lhamo Lake in North Sikkim and is formed by the melting of the Tista Khantse glacier.
Just before the Teesta Bridge, which joins Kalimpong with Darjeeling, the river is met by its main tributary, the Rangeet River.
At this point, it changes course southwards flowing into West Bengal. The river hits the plains at Sevoke, at a distance of 22 Km from Siliguri, where it is spanned by the Coronation Bridge which links the north-east states to the rest of India.
The river then courses its way to Jalpaiguri and then to Rangpur District of Bangladesh, before finally merging with the mighty Brahmaputra at Fulchori.
Teesta River water issue
Negotiations for sharing of river water has been taking place since 1983. In 2011, an interim deal was proposed to be signed which allocated 42.5% of Teesta's waters to India and 37.5% to Bangladesh. But due to Mamata Banerjee's opposition, the deal was shelved.
Unlike Ganga water sharing in 1996 or the recent exchange of enclaves with Bangladesh, there exists very little opposition for Teesta river water treaty even in North Bengal, where the river flows.
Recently, Mamata Banerjee has proposed linking of three more rivers in North Bengal with Teesta so that there will be enough water to share. But this proposal is termed unviable as the rivers mentioned by Banerjee originates in Bhutan and flows in different gradients when compared with Teesta.
Hydropower generation in Teesta river is another point of contention. In Sikkim alone, there are at least 26 projects that produces 50,000 MW of power. With Banerjee's tough stance, Bangladesh may approach an international court or demand share from the hydro-electricity generated in Sikkim.
#4 URJA GANGA SCHEME
The gas pipeline project aims to provide piped cooking (PNG) gas to residents of the eastern region of the country and CNG gas for the vehicles.
Key Facts
The project is being implemented by state-run gas utility GAIL. It envisages laying a 2,050-km pipeline connecting Jagdishpur (UP) to Haldia (West Bengal) by 2018.
From Varanasi's perspective, 50,000 households and 20,000 vehicles will get cleaner and cheaper fuel PNG

and
The project is considered as a major step towards collective growth and development of the Eastern region of India. Under it, overall 20 lakh households will get PNG connections.
The Urja Ganga project also augments existing GAIL's network of trunk pipelines covering the length of around 11,000 km by 2540 km.
Besides, under this project work on 2540-km long Jagdishpur-Haldia and Bokaro-Dhamra Natural Gas pipeline project will begin and will be completed between 2018 and 2020.
Seven East India cities Varanasi, Jamshedpur, Patna, Ranchi, Kolkata, Bhubaneswar, Cuttack – will be the major beneficiary of this network development.
Besides, LNG terminal at Dhamra will provide clean fuel to the

Industrial Development of the Eastern states of Uttar Pradesh, Jharkhand, Bihar, West Bengal and Odisha.
25 industrial clusters in these 5 states will be developed using gas from this pipeline. Besides, 40 districts and 2600 villages will benefit from this project.
It will also help in revival of defunct fertilizer plants in Barauni in Bihar, Gorakhpur in UP, Sindri in Jharkhand and Durgapur in West Bengal by supplying gas.
#5 Namami Brahmaputra
The biggest river festival of India "Namami Brahmaputra" has started in 21 districts of Assam on March 31, 2017.
President Pranab Mukherjee has inaugurated the 5-day festival on the banks of the river, which is considered

country's only male river

.
Various cultural programmes, traditional sports, Brahmaputra Aarti, exhibition, film shows, seminars and competitions will be the part of the festival.
Spiritual leader Dalai Lama and several Union ministers will also attend the festival.
This festival is likely to give a boost to the investment and tourism prospect in the state.
Prime Minister of Bhutan, Governor of Assam and Chief Ministers of Assam and Arunachal Pradesh will also attend the inaugural ceremony.
NASA has announced that

Saturn's sixth-largest moon Enceladus

and

Jupiter's fourth-largest moon Europa

may be habitable as they have the necessary ingredients required to sustain life.
The key ingredients of life are liquid water, a source of energy for metabolism, and chemicals such as carbon, hydrogen, nitrogen, oxygen, phosphorus, and sulphur.
Findings were made by NASA with the help of Cassini-Huygens unmanned spacecraft and the Hubble Telescope.
Cassini-Huygens unmanned spacecraft was sent in 1997 to study Saturn, its rings, and its moon.
Salient findings
Saturn's moon Enceladus has a higher possibility of hosting life than Jupiter's Europa as it has a form of chemical energy on which life forms can feed.
Enceladus is a small, icy moon which has an abundance of hydrogen molecules in water plumes.
98% of the gas in the plumes was found to be water and 1% is hydrogen and the remaining is a mixture of molecules of carbon dioxide, methane, and ammonia.
Underwater vents present on Enceladus resemble the vents present on Earth's ocean floors, where microbes and other sea life congregate. Scientists expect to find the potential for life in those vents as microbes flourish on Earth in hot cracks on the ocean floors, where sunlight cannot penetrate. Microbes are capable of using the process of methanogenesis, in which hydrogen is combined with carbon dioxide dissolved in the water, to obtain energy. This process creates methane as a byproduct, which is a critical ingredient for life
Unnat Bharat Abhiyan is being coordinated and steered by IIT Delhi.The programme involve engaging with neighbouring communities and using technologies for their upliftment.
He was an eye-witness of Jallianwala Bagh Massacre as he was serving water to crowd gathered along with his friends.
He considered Governor of Punjab, Michael O' Dwyer to be original culprit as he supported massacre.
Deeply influenced by Hindustan Socialist Republican Army and a member of Ghadar Party.
Returned to India on order by Bhagat Singh with revolvers and ammunitions along with 25 associates. Caught for possessing unlicensed arms but was released in 1931.
Escaped to Germany by Kashmir way and evaded surveillance by British Police.
Singh reached London in 1934 and planned to assassinate Reginald Dyer but it is debated that it was Reginald Dyer or Michael O' Dwyer.
Shot Michael twice in Caxton Hall by revolver given to him by Puran Singh Boughan.
Went on 42-day hunger strike in jail and was forcibly fed.
Formally charged for killing Michael O'Dwyer on April 1 1940.
Singh was convicted and sentenced to death. On 31 July 1940, Singh was hanged at Pentonville Prison and buried within the prison grounds.
Singh's actions were condemned by Gandhi ji and Nehru but most of the commoners and other aggressive leaders said that it is an important action for Indian independence struggle.Later on Nehru applauded his actions in 1962 and used the word 'Shaheed-e-Azam' for him.The Times of London called him 'Fighter for Freedom' and Bergeret in Rome also praised him.
#9

HIV and AIDS (Prevention and Control) Bill, 2014
HIV and AIDS (Prevention and Control) Bill, 2014 is up for discussion and passing in Lok Sabha today. Here are the key points you need to know about the Bill and its provisions:
1. It aims to end the epidemic by 2030 in accordance with the Sustainable Development Goals set by the United Nations. There are approximately 21 lakh persons living with HIV in India.
2. The Bill has been drafted to safeguard the rights of people living with HIV and affected by HIV. The provisions of the Bill seek to address HIV-related discrimination, strengthen the existing programme by bringing in legal accountability and establish formal mechanisms for inquiring into complaints and redressing grievances.
3. A person living with AIDS cannot be treated unfairly at employment, educational establishments, renting a property, standing for public or private office or providing healthcare and insurance services.
4. The Bill also aims to enhance access to healthcare services by ensuring informed consent and confidentiality for HIV-related testing, treatment and clinical research.
5. Every HIV infected or affected person below the age of 18 years has the right to reside in a shared household and enjoy the facilities of the household.
6. The Bill also prohibits any individual from publishing information or advocating feelings of hatred against HIV positive persons and those living with them.
7. No person shall be compelled to disclose his/her HIV status except with their informed consent, and if required by a court order.
8. The State and Central government should ensure prevention of the spread of HIV and AIDS, provide anti-retroviral therapy, and facilitate access to welfare schemes especially for women and children.
9. Every person in the care and custody of the State shall have right to HIV prevention, testing, treatment and counseling services.
10. The Bill suggest that cases relating to HIV positive persons shall be disposed' off by the court on a priority basis and duly ensuring the confidentiality.
The Union Ministry of Home Affairs has launched web portal and mobile application named "
Bharat ke Veer
" to enable people to contribute towards family of martyrs from central paramilitary forces.
It was launched by Union Home Minister Rajnath Singh on the occasion of Valour Day of Central Reserve Police Force (CRPF), observed on 9 April.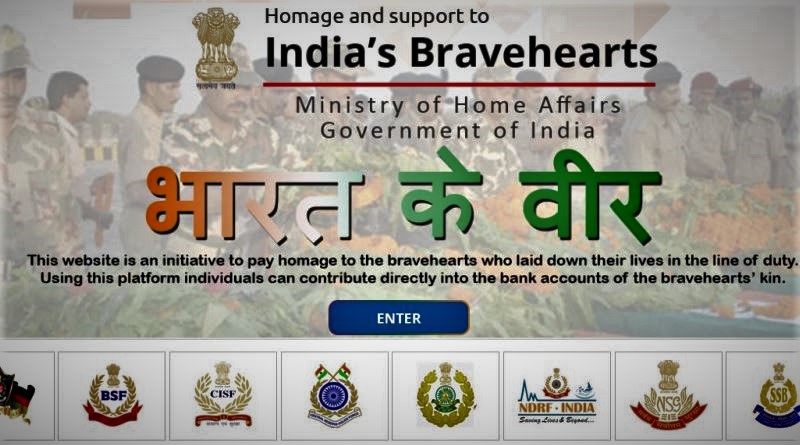 Key Facts
The portal and application is an IT based platform to enable willing donors to contribute towards the family of a braveheart who have sacrificed their life in line of duty or towards the 'Bharat Ke Veer' corpus.
This online donation platform is technically supported by National Informatics Centre (NIC) and powered by State Bank of India (SBI).
The amount so donated through it will be credited to the account of 'Next of Kin' of those Central Armed Police Force or Central Para Military Force soldiers.
To ensure maximum coverage, a cap of Rs. 15 lakh is imposed on donation and donors will be alerted if amount exceeds, so they can choose to divert part of the donation to another account or the corpus.
Bharat Ke Veer corpus will be managed by a committee made up of eminent persons of repute and senior Government officials.
The committee will decide to disbursement of fund equitably to braveheart's family on need basis.