Two years on since the CYCLONE HUDHUD and bifurcation of ANDHRA PRADESH , the state has emerged from these significant challenges and is now considered one of the easiest places to do business in India, according to surveys by the World Bank and the department of industrial policy and promotion.
At the heart of its governance model is a problem-solving approach led by data, rather than instinct.

Since 2014, the state government has invested considerable time and funds in collecting data.

These data initiatives are modelled on the

key performance indicator (KPI) methods

employed by Malaysia's performance management and delivery unit (Pemandu), an agency managing the Malaysian government's economic transformation program.
In November 2014, Naidu visited Singapore, where the idea of an investment promotion and monitoring body like the Economic Development Board (EDB) of Singapore was conceived.
For Andhra Pradesh, the combination of an

EDB for setting large macro targets and Pemandu's KPI approach to resolve micro problems

appears to have hit the right spot. Like the NITI Aayog, the EDB in Andhra Pradesh is still finding its feet. From its beginnings with a small group of interns collating data across various districts and state departments, the EDB has since taken over the state's investment promotion and external engagement activities. These include liaising with the Central government, investors, multilateral agencies and India's overseas embassies.
The Core Dashboard, perhaps the most comprehensive e-governance initiative seen in India, is spearheaded by the chief minister's office directly.

For a country where data quality can be unreliable, Andhra Pradesh's push to collect information and share it in a transparent, real time manner is refreshing.

From the Core Dashboard, the

chief minister can access KPIs from more than 33 departments and other parameters, including the number of streetlights switched on, power generated daily, water levels, rainfall, tax revenue, forest plantation rates, and government revenue.

The state has also leveraged Aadhaar to track payments for its welfare schemes in order to reduce and eventually eliminate leakages.
The dashboard is already starting to make a

material difference to Andhra's economy

. For instance, the government has been able to reduce the impact of this year's drought in several districts. Timely monitoring through the Core Dashboard allowed "rain guns" to be deployed in a targeted manner, which helped to reduce the risk of crops wilting away.
Similarly, urban governance is being redefined by the use of data.

In order to provide broadband connectivity, the state is using its power infrastructure of transformers and pillars to hang broadband cables, rather than burying them in the ground.

While aesthetically less pleasing, the state has found a highly effective and low-cost way of spreading broadband access, with a minimum speed of 15 mbps.
At the same time, the Core Dashboard can measure the number of streetlights that are switched on in realtime in the state's two key cities of Visakhapatnam and Vijayawada
.
Similarly, the state government has monitored LED bulb distribution since the "Ujala" LED distribution programme was launched by the Central government, saving almost 500 megawatts of peak power demand through approximately 19 million LED bulbs, almost around 7% of Andhra Pradesh's peak power demand.
Within the social sector, welfare schemes are closely tracked on the dashboard.

While the Central government has been pushing the adoption of the Aadhaar card for Central schemes, the state of Andhra Pradesh is using Aadhaar for its own schemes.

The bulk of beneficiaries of the

state's flagship pension scheme, called NTR Bharosa

, are tracked on the dashboard.

Similarly, with 97% Aadhaar penetration, district-level MGNREGA (Mahatma Gandhi National Rural Employment Guarantee Act) payments are being made to bank accounts directly, while being monitored online to prevent leakages and theft.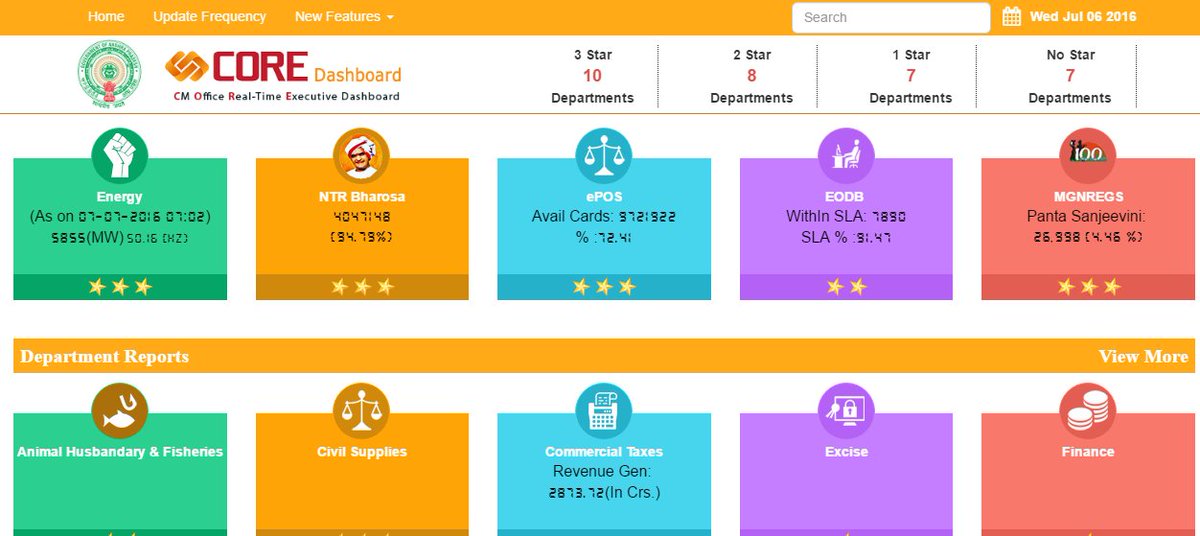 These micro interventions and transparency initiatives employed by the Andhra Pradesh government are unique for India. But the state is not just solving ground-level problems, it is also setting high-level macro targets which allow for greater recognition of progress to the public at large.
Naidu has also been holding a monthly collectors' conference to promote accountability for bureaucrats and to break down silos and share best practices among state government officials.
Given the apparent success of Andhra Pradesh's data-driven approach to governance, others are starting to follow suit.

For example, some large states such as Maharashtra and Rajasthan have introduced digital platforms to track their water conservation programmes.

Haryana also uses a dashboard to monitor progress, although it is not available to the public to view.

However, no other state in India has a portal as comprehensive or transparent as Andhra Pradesh's, making it a clear leader in the push towards using technology to deliver better governance.