What's the story?
Hong Kong, one of the world's most important financial hubs, has exploded into protest. Since Sunday night, the so-called "umbrella revolution" has turned the city's gleaming central business district into a virtual conflict zone, replete with shouting mobs, police in riot gear, and clouds of tear gas. Tens of thousands of Hong Kong residents – young and old, rich and poor – have peacefully occupied major thoroughfares across the city, shuttering businesses and bringing traffic to a halt. They claim that Beijing reneged on an agreement to grant them open elections by 2017, and demand "true universal suffrage". Organisers said on Monday that the protest would not end until Beijing changes its electoral guidelines and Leung Chun-Ying, the city's pro-Beijing chief executive, steps down. Neither side seems prepared to back off, and nobody knows how the standoff will end.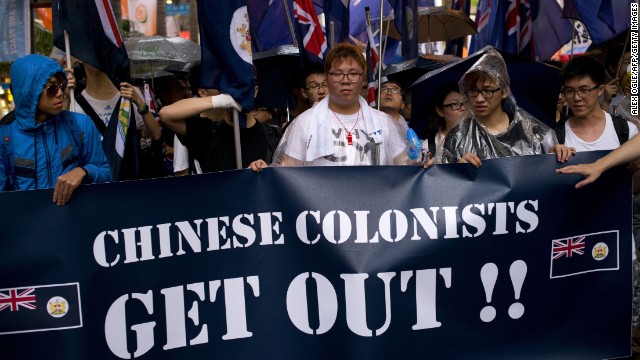 *****************************************************************
Hong Kong democracy timeline
1997: UK gives Hong Kong back to China under a 1984 agreement giving it "a high degree of autonomy" for 50 years

2004: China says it must approve any changes to Hong Kong's election laws

June-July 2014: Pro-democracy activists hold an unofficial referendum on political reform; both sides hold large rallies

31 August 2014: China says it will allow direct elections in 2017 but will pre-approve candidates

22 September 2014: Student groups launch a week-long boycott of classes

28 September 2014: Occupy Central and student protests join forces and take over central Hong Kong

2017: Direct elections for chief executive due to take place

2047: Expiry of current agreements
****************************************************************************
What is Hong Kong's relationship with
China?
Hong Kong, a former British colony, was handed back to China in 1997 following a

1984

agreement

between China and Britain.
China agreed to govern Hong Kong under the principle of "one country, two systems", where the city would enjoy "a high degree of autonomy, except in foreign and defence affairs" for 50 years.
As a result, Hong Kong has its own legal system, and rights including freedom of assembly and free speech are protected.
Its leader, the chief executive, is currently elected by a 1,200-member election committee. A majority of the representatives are viewed as pro-Beijing.
Hong Kong's mini-constitution,

the Basic Law

, says that "the ultimate aim" is to elect the chief executive "by universal suffrage".
So what has changed?
The Chinese government has promised direct elections for chief executive by 2017.
But in

August 2014

China's top legislative committee ruled

that voters will only have a choice from a list of two or three candidates selected by a nominating committee.
This committee would be formed "in accordance with" Hong Kong's largely pro-Beijing election committee. Any candidate would have to secure the support of more than 50% of the nominating committee before being able to run in the election.
Democracy activists believe China will use the committee to screen out candidates it disapproves of.
Who is leading the debate?
Occupy Central, led by academic Benny Tai, organised the unofficial referendum on political reform which was held from 20 to 29 June 2014.
Voters were asked to choose from three proposals for the 2017 election, all of which involved allowing citizens to choose who to nominate as a candidate for the top job.
A total of 792,808 voters cast ballots. Activists claimed the high turnout - about one in five registered voters - showed they had strong backing from the public.
Shortly after the vote, tens of thousands of protesters took part in what observers say was Hong Kong's largest pro-democracy rally in a decade.
The demonstration took place on 1 July, which marked the day Hong Kong was returned to China in 1997.
Does everyone want full democracy?
No. Pro-Beijing groups, such as

Silent Majority for Hong Kong

and

Caring Hong Kong Power

have emerged, criticising pro-democracy activists for "endangering" the city.
They argue that continued civil disobedience and opposition to Beijing would only damage the city's reputation and economy, as well as its relationship with China.
These groups have organised several protests against Occupy Central and the pro-democracy movement. Its biggest event, held on 17 August, was attended by thousands.
The rally was unusual as large-scale pro-government protests are rare in Hong Kong. Several questioned its legitimacy, especially when reports emerged that some marchers were paid to attend.
Business leaders, who favour stability, have also opposed pro-democracy protests, and a recent survey by Hong Kong University showed more Hong Kong residents viewed China positively than negatively.
Pro-China legislators have

argued

that Beijing's proposals are an improvement on the current system.
China has defended its ruling on election candidacy. Li Fei, the deputy secretary general of the National People's Congress Standing Committee, said that openly nominating candidates would create a "chaotic society" and that any chief executive must "love the country".
China has condemned the pro-democracy protests and called the unofficial referendum a "farce".
In its

June 2014 white paper

, China

said some had a "confused and lopsided" understanding of the "one country, two systems" model.
It stressed that while Hong Kong has a "high degree of autonomy", it is "not full autonomy". China still has "comprehensive jurisdiction".
The white paper sparked criticism in Hong Kong, with some interpreting the document as China asserting its authority over the city.
China has constantly stressed that unity is the way forward for the country, as it grapples with demands for greater autonomy in Xinjiang and Tibet.
What is the Hong Kong government's stand?
Chief Executive CY Leung hailed Beijing's decision on election candidacy as a "major step forward in the development of Hong Kong's society".
His government had said June's unofficial referendum had no legal standing.
It also welcomed the Chinese government's white paper, saying that Hong Kong has benefited from the "one country, two systems" model.
In a report submitted to Beijing in July, Mr Leung said that mainstream Hong Kong society agreed with Beijing on how electoral reform should proceed.
The report was based on public consultation with the Hong Kong public. But it drew fire from pro-democracy activists who said Mr Leung had misrepresented public opinion.
Following Beijing's ruling on election candidacy, Occupy Central's Benny Tai said that dialogue had come to an end.
He said that there would be an "era of civil disobedience", including a mass sit-in to be organised in the Central financial district. Organisers have said they will hold a

protest on 1 October.
On 22 September, student groups began a week-long boycott of classes. More than 13,000 students took part on the first day, converging on the Chinese University of Hong Kong campus. Activists held lectures and rallies at a city centre park later in the week.
The Hong Kong government must still discuss Beijing's election ruling and formulate a bill to be passed by Hong Kong's legislature.