TARGETED PUBLIC DISTRIBUTION SYSTEM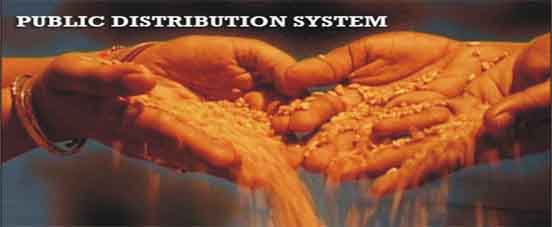 Government of India makes allocation of foodgrains under Targeted Public Distribution System (TPDS) for Below Poverty Line (BPL) families and Antyodaya Anna Yojana (AAY) families @ 35 kg per family per month.

Beneficiaries for the scheme are identified by the States on the basis of 1993-94 poverty estimates of Planning Commission and March 2000 population estimates of Registrar General of India.
The Department of Food & PD also makes allocation of food grains at BPL prices for the following welfare schemes implemented by various Ministries/Departments of the Government of India as well as State Governments/UTs:
The Mid Day Meal Scheme is implemented by the Ministry of Human Resource Development.

The Scheme covers students of Primary & Upper Primary Classes in the Government Schools/Schools aided by Government and the Schools run by local bodies.

Food grains are supplied free of cost @ 100 gram per child per school day where cooked/processed hot meal is being served or 3 kgs per student per month where foodgrains are distributed in raw form.
WHEAT BASED NUTRITION PROGRAMME
This Scheme is implemented by the Ministry of Women & Child Development.

The food grains allotted under this Scheme are utilized by the States/UTs under Integrated Child Development Services (ICDS) for providing nutritious/energy food to children in the age group of 0-6 years and expectant/lactating women.
RAJIV GANDHI SCHEME FOR EMPOWERMENT OF ADOLESCENT GIRLS 'SABLA'
The Ministry of Women and Child Development administers the scheme at the central level and State/UT Governments implement the scheme.

The SABLA Scheme has been launched on 19.11.2010 by merging two schemes namely Nutrition Programme and Adolescent Girls (NPAG) and Kishori Shakti Yojana(KSY) in to a single scheme and proposed to be implemented in 200 selected districts across the country.

The Scheme aims at empowering adolescent girls of 11-18 years by improvement of their nutritional and health status and upgrading various skills like home skills, life skills and vocational skills.

It also aims at equipping the girls on family welfare, health hygiene etc. and information and guidance on existing public services along with aiming to mainstream out of school girls into formal or non-formal education.

The requirement of food grains under the scheme for nutrition is @ 100 grams of grains per beneficiary per day for 300 days in a year.
SUPPLY OF FOODGRAINS TO HOSTELS/WELFARE INSTITUTIONS
This Scheme is implemented by the Department of Food and Public Distribution through the State Governments/UTs.

To meet the requirement of Hostels/Welfare Institutions, viz., N.G.Os/Charitable Institutions, an additional allocation of foodgrains up to 5% of the BPL allocation of each State/UT is made to States/UTs at BPL rates under this Scheme.
SUPPLY OF FOODGRAINS FOR SC/ST/OBC HOSTELS
This Scheme is implemented by the Department of Food and Public Distribution through the State Governments/UTs.

Under this Scheme, all residents of the hostels having 2/3

rd

students belonging to SC/ST/OBC are given 15 kg. foodgrains per resident per month .
This Scheme is implemented by Ministry of Rural Development. Indigent senior citizens of 65 years of age or above who, though eligible for old age pension under the National Old Age Pension Scheme (NOAPS) but are not getting the same, are covered under this Scheme and 10 kgs. of foodgrains per person per month are supplied free of cost.
EMERGNCY FEEDING PROGRAMME
This Scheme is implemented by Department of Food and Public Distribution through the State Government of Orissa.

The Scheme is being implemented in eight KBK Districts of Orissa covering 2 lakh beneficiaries and foodgrains (rice) at BPL rates are being allocated to State Government of Orissa.

Cooked food containing, inter alia, rice-200 gms, dal (pulse)-40 gms and vegetables-30 gms is provided daily in the diet of each EFP beneficiary by the State Government.
VILLAGE GRAIN BANKS SCHEME
Village Grain Bank Scheme was earlier implemented by the Ministry of Tribal Affairs in 11 States.

However, since 24.11.2004, the scheme is being implemented by the Department Food & Public Distribution.
The main objective of the scheme presently being implemented is to provide safeguard against starvation during the period of natural calamity or during lean season when the marginalized food insecure households do not have sufficient resources to purchase rations. Such people in need of food grains will be able to borrow food grains from the Village Grain Bank. The grain banks are to be set up in food scarce areas like the drought prone areas, the hot and cold desert areas, tribal areas and the inaccessible hilly areas which remain cut off because of natural calamities like floods, etc. These villages are to be notified by the concerned State Government/Union Territory. The scheme envisages inclusion of all willing BPL/AAY families in the villages to be identified by the State Government in food deficit areas. The quantity to be lent and the period of repayment is to be decided by the Group themselves. Village Panchayat/Gram Sabha, Self Help Group for NGOs etc. identified by the State Governments are eligible for running the Grain Banks.