Demat refers to a dematerialised account.
Just as you have to open an account with a bank if you want to save your money, make cheque payments etc, you need to open a demat account if you want to buy or sell stocks.
So it is just like

a

bank

account

where actual money is replaced by shares.
You have to approach the DPs (remember, they are like
bank
branches
), to open your demat account.
Let's say your portfolio of shares looks like this: 40 of Infosys, 25 of Wipro, 45 of HLL and 100 of ACC. All these will show in your demat account.
So you don't have to possess any physical certificates showing that you own these shares. They are all held electronically in your account. As you buy and sell the shares, they are adjusted in your account.
Just like a bank passbook or statement, the DP will provide you with periodic statements of holdings and transactions.
Is a demat account a must?
Nowadays, practically all trades have to be settled in dematerialised form. Although the market regulator, the Securities and Exchange Board of India (SEBI), has allowed trades of upto 500 shares to be settled in physical form, nobody wants physical shares any more.So a demat account is a must for trading and investing.
What is

Advantages of Demat ?
A demat account reduces brokerage charges, makes pledging/hypothecation of shares easier, enables quick ownership of securities on settlement resulting in increased liquidity, avoids confusion in the ownership title of securities, and provides easy receipt of public issue allotments or IPOs.
It also helps avoid bad deliveries caused by signature mismatch, postal delays and loss of certificates in transit. Further, it eliminates risks associated with forgery, counterfeiting, and loss due to damaged stock certificates.
Demat account holders also avoid stamp duty (as against 0.5 per cent payable on physical shares)
, filling up of transfer deeds, and obtain quick receipt of benefits like stock splits and bonuses.
It's a safe and convenient way to hold securities
Immediate transfer of securities
There is no stamp duty on transfer of securities
Elimination of risks associated with physical certificates such as bad delivery, fake securities, delays, thefts etc.
There is a major reduction in paperwork involved in transfer of securities,reduction in transaction cost etc.
No odd lot problem, even one share can be sold
Change in address recorded with DP gets registered with all companies in which investor holds securities eliminating the need to correspond with each of them separately;
Transmission of securities is done by DP eliminating correspondence with companies;
Automatic credit into demat account of shares, arising out of bonus/split/consolidation/merger etc.
Holding investments in equity and debt instruments in a single account.
The disadvantages of dematerialization of securities can be summarised as follows:
Trading in securities may become uncontrolled in case of dematerialized securities.
It is incumbent upon the capital market regulator to keep a close watch on the trading in dematerialized securities and see to it that trading does not act as a detriment to investors.
The role of key market players in case of dematerialized securities, such as stock-brokers, needs to be supervised as they have the capability of manipulating the market.
Multiple regulatory frameworks have to be confirmed to, including the Depositories Act, Regulations and the various By-Laws of various depositories.Additionally, agreements are entered at various levels in the process of dematerialization. These may cause anxiety to the investor desirous of simplicity.
There are just 4 simple steps for demat account opening:
Select & approach a certified DP (eg. ShareKhan, HDFC Securities, Unicon Securities, IIFL etc.)
Fill up demat account opening form given by the DP.
Attach xerox copies of proof of address and proof of identity along with the demat form.
Produce your original PAN card during demat account opening.
What's the difference between a depository and a depository participant?
A depository is a place where the stocks of investors are held in electronic form.
The depository has agents who are called depository participants (DPs).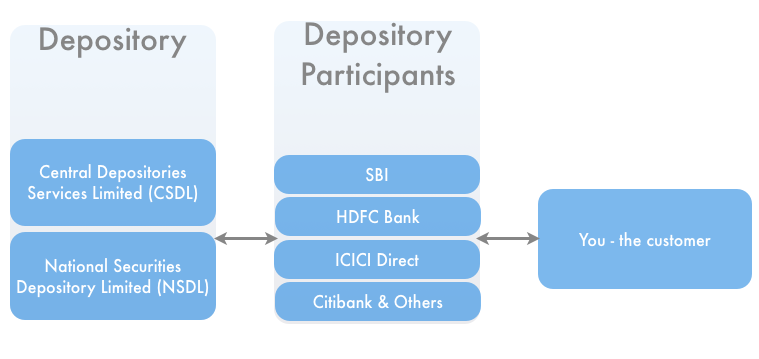 Think of it like a bank. The head office where all the technology rests and details of all accounts held is like the depository. And the DPs are the branches that cater to individuals.
There are only two depositories in India -- the
National Securities Depository Ltd (NSDL) and the
Central Depository Services Ltd (CDSL).
There are over a 100 DPs.
If interested just hav a look at this presentation representing a DEMAT SCAM !!
Story of Demat Scam 100000 Bogus Demat A/c Bank A/c Cornering