अप्रैल
1965
में
कच्छ
के
रन
पर
हमले
के
बाद
अगस्त
में
कश्मीर
में
घुसपैठ
प्रारम्भ
कर
पकिस्तान
ने
दोनों
देशों
के
मध्य
युद्ध
की
स्थिति
उत्पन्न
कर
दी
WHO won the war then ?
While both India and Pakistan celebrate the golden jubilee of their glorious "victories", newspaper columns and TV shows in the two countries have belatedly tried to adjudicate the winner. From India's point of view, this debate is futile. First of all, this debate presupposes that war outcomes are binary in nature. While some commentators have pointed out that 1965 ended in a stalemate, a large body of public opinion thinks of war outcomes as a zero sum game where Pakistan's loss implies India's win. This is not necessarily true. Victory—perceived or otherwise—depends on each side's political objectives, which may not always amount to Clausewitzian destruction of the enemy.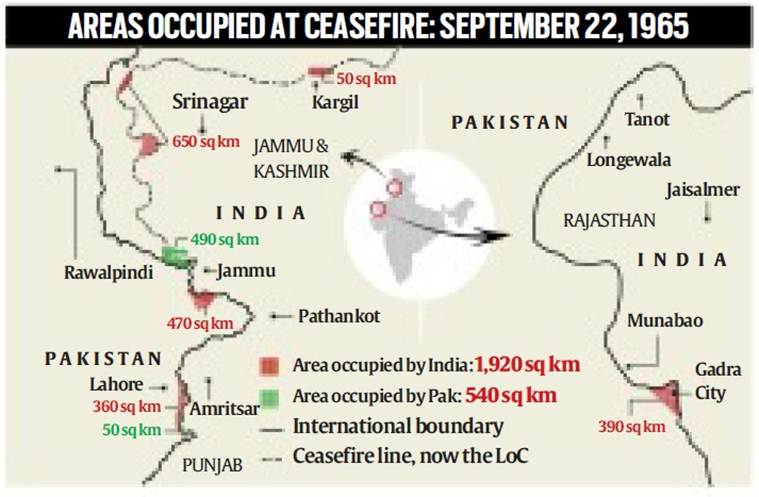 What is important for India is not the war outcome but the lessons we should have learnt from 1965, but sadly we haven't yet.
First, 1965 was a huge intelligence failure.
Despite the foreboding Rann of Kutch skirmish in April 1965, India failed in anticipating the nefarious Operation Gibraltar being schemed in Pakistan.

Fast forward to Kargil in 1999 or Parliament attacks in 2001 or the 26/11 Mumbai episode in 2008, the implications of persistent intelligence lapses are too massive to be ignored.

We have repeatedly allowed Pakistan to take us by surprise despite knowing the nature of the Pakistani state rather too well.
Second, Indian forces have had to suffer from poor equipment and ammunition support whether it was 1965 or the Kargil war.
During the former, our 1945 vintage Centurion tanks were up against the latest American origin M-47 and M-48 Patton tanks.

Three and a half decades later, the Kargil Review Committee catalogued the deficiency of weapons and equipment support for Indian Army jawans.

A CAG report tabled in Parliament earlier this year raised questions on India's ability to fight a 20-day war.

The story is worse with paramilitary and police forces which have to deal with insurgents and infiltrators too often.

Poor training and equipment of Punjab police was on full public display during the recent Gurdaspur attacks.
Third, the quality of decision-making during times of crisis leaves a lot to be desired.
Since the debacle of 1962 was blamed on excessive political interference, 1965 was characterized by inadequate civilian oversight which—according to military historian Srinath Raghavan—was the reason India did not achieve a better outcome.

Army chief general J.N. Chaudhuri miscalculated the amount of ammunition left and the number of tanks destroyed, an assessment which prodded Prime Minister Lal Bahadur Shastri to accept the ceasefire under international pressure.
The lessons from 1965 will remain incomplete till the events in Tashkent are understood in entirety.
Following the cease-fire after the Indo-Pak War of 1965, a Russian sponsored agreement was signed between India and Pakistan in Tashkent on 10 January 1966.
India had captured four times the territory Pakistan did during the war.

Under Soviet pressure, India ceded all its gains which could have served as leverage with Pakistan in future negotiations.

It seemed as if lessons from the adverse fallout of international mediation in Kashmir sought by Jawaharlal Nehru were not yet internalized.

K. Shankar Bajpai, who served as secretary to the Indian delegation in Tashkent

, recalls, "We went determined not to return them (the captured areas), unless Pakistan agreed to renounce force and accept the ceasefire line as a frontier."

Apparently, the threat of referral to UN Security Council without the cover of Soviet veto did the trick.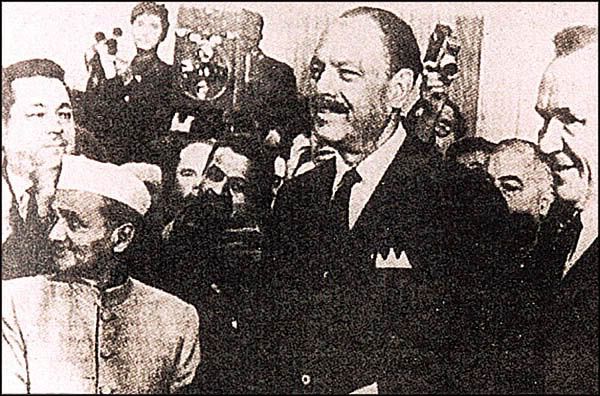 Mistake of returning Hajipir !
Under the agreement, India agreed to return the strategic Haji Pir pass to Pakistan which it had captured in August 1965 against heavy odds and at a huge human cost.

The pass connects Poonch and Uri sectors in Jammu and Kashmir and reduces the distance between the two sectors to 15 km whereas the alternate route entails a travel of over 200 km.
India got nothing in return except an undertaking by Pakistan to abjure war, an undertaking which meant little as Pakistan never had any intention of honouring it.

Return of the vital Haji Pir pass was a mistake of monumental proportions for which India is suffering to date.

In addition to denying a direct link between Poonch and Uri sectors, the pass is being effectively used by Pakistan to sponsor infiltration of terrorists into India.

Inability to resist Russian pressure was a manifestation of the boneless Indian foreign policy and shortsighted leadership.
Analyzing Tashkent as per what K Shanker Bajpai writes in Indian express !!
The Tashkent Declaration turns 50 in four months. But it fits here, having been forever questioned for returning heroically captured J&K areas. We went determined not to return them, unless Pakistan agreed to renounce force and accept the ceasefire line as a frontier.
We did face unexpected difficulties: Russia's skilful diplomacy
turned from pro-Indian to even-handed
, seeing possibilities of weaning Pakistan away from its then bugbear China. Originally urging the Tashkent meet not for a final settlement but to start a process, Moscow pressed for an agreement there and then, with messages sent through our ambassador warning of a return to the UN Security Council, and without the benefit of a Soviet veto. -
Many states have defied UN resolutions, but that was not our way. Shastriji had his foreign and defence ministers, principal secretary, foreign, home and defence secretaries, as well as the incoming army chief with him. The decision was not one man's, but of our usual type. But in all fairness, one must remember that diplomacy can only reflect the ground situation, not least the totality of state capability. Some of us dearly preferred other outcomes, but one could do no more at Tashkent than we could on the ground.
What positives happened due to 1965 experience ?
1.
Growth of Indo- Russia relations
- Russia not only vetoed against a resolution against India, but also provided her with military hardwares and provided for ceasefire negotiations in Tashkent.
2.
The war lifted Indian spirit after defeat against China.
It also cut down Pakistan's nerves who had assumed India to be weak.
3. The war coupled with the twin droughts of 1965-66 highlighted India's weakness on food security front. US suspended PL-480 food aid. This incentivised focus towards
Green Revolution.
4. The war also accelerated our
nuclear programme.
Shortly after, we conducted our first nuclear bomb at Pokhran in 1974.
5. War heralded unity between the various factions. PM Lal Bahadur Shastri led at the forefront with his slogans like
'Jai Jawan, Jai Kisan '
Pakistan's 1965 gamble failed, but we only "scotched the snake, not killed it".

This snake cannot be killed, or even defanged now. We have to immunise ourselves.

That means making ourselves so capable as to live with the likely worst, while warily preparing for worse still.

Howsoever right an objective, it is feasibility that counts.

In 1965, we were economically floundering, militarily weak, politically bickering, and still diplomatically inexperienced. The lessons of 1965 — not to be any of those things — are obvious. So too is our refusal to learn.