( The reason i m covering this topic is since , COIR BOARD is to celebrate DIAMOND JUBILEE this year and UPSC may ask a question on this in MAINS )
Coir Board,
which has been engaged in activities of turning coconut fibres in to the money yielding
'golden fibres'
enters into sixty years of service. Coir Board is concerned of protecting the interests of laborers and small scale producers engaged in the field. When Coir Board came in to existence in 1953 under a legislation enacted by the Parliament namely Coir Industry Act 1953 (45 of 1953) for the promotion and development of Coir Industry in India, Kerala was the only state where its activities are concentrated.
But today Coir Boards activities are stretched over 14 states and the Board have selling counters all over India. It is also giving insurance coverage to coir workers.
In India about 10

lakh

people are directly or indirectly engaged in coir industry. More than

1000 small scale producers

are engaged in this industry.
Apart from conventional coir products the coir industry now offers a wide variety of products like conference bags, UV treated umbrellas, coir mattress, coir

chapals

, coir garden articles, coir ply

moulded

articles, coir

bhoovastra

, coir

jewellery

and handicrafts which have high demand in international market. Coir board is planning to launch more value added products.
Coir is a versatile hard fibre obtained from the husks of coconut.

The Coir fibre is one of the hardest natural fibres because of its high content of lignin. Acute shortage of husks for extraction of fibres is one of the major problems faced by the coir industry. Experts in the coir Board have found out that there is an untapped stock of husks in the rural areas from where collection is difficult as onsite
defibering
is not possible. In order to overcome this crisis the

Central Coir Research Institute (CCRI) at
Kalavoor
,
Alappuzha
has developed a
Mobile Fibre Extraction Machine
that can be taken to remote areas where husk is available.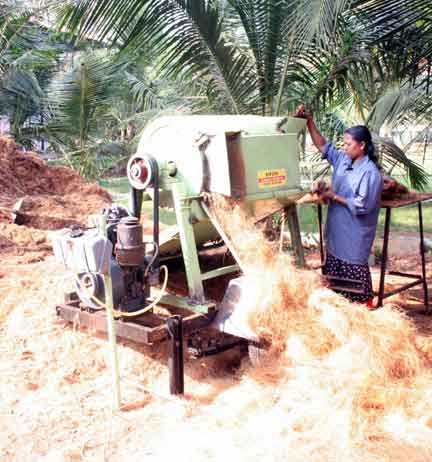 Mobile Fibre Extraction Machine
It can be loaded in an auto-rickshaw and can be run by diesel engine or electric motor.

The machine which weighs only 500 kg can extract fibre from 400 to 500 husks in an hour.

This machine can significantly reduce the rate of pollution of water bodies in rural area.

In the conventional method husks are soaked in river or lake water.

More than 150000 liters of water is needed for soaking and other process.

Only 1000 liters of water is enough to sprinkle over the husks in the modern method.
WOMEN EMPOWERMENT !!
Earlier two male employees were needed to operate the traditional hand loom. The traditional hand loom with pneumatic system developed by CCRI can be easily operated by women workers.

Thus the Coir Board successfully implements women empowerment in the industry.

The pneumatic system offers high quality with more productivity when compared to the traditional wooden handloom and avoids drudgery in weaving.
The coir composite developed by Central Institute of Coir Technology, Bangalore can substitute wood, plywood and MDF boards. It can withstand termite attack and can be used for making doors, tables,

almiras

, sofa etc. It is highly eco friendly and the use of this coir wood can preserve our valuable forest. As this comes in fixed size it also reduces the

labour

cost.
The coir bhoovastra

developed by coir board is an answer to the growing concern of soil erosion. Being 100% natural and bio-degradable, coir fibre functions as a soil amendment and helps prevent soil erosion. The bhoovastra has successfully used to strengthen the slopes in

Konkan

Railway route and in

Kohima

, Nagaland to prevent soil erosion. This opens up new opportunity for natural

fibre

based

geotextiles

including coir. It is priced between Rs 40 to 90 for square meter.
Coir Bhoovastra
Cocolawn

is another product from Coir Board which is in high demand. Cocolawn comprises of coir netting as a support material. Grass slips are planted on the bed of coir pith. The ready to use cocolawn is made available in the form of a blanket, which can be shifted from one place to another and can be rolled up for transportation. It can be even placed over cement floors.
Coco Lawn
Coir Ply
A substitute to plywood, coir ply is an innovative product that when is added together with resin and limited pre-treated timber veneers. In India the product has been well accepted by the market as an alternative to plywood. Substituting coir for other timber products could also save a substantial amount of tropical trees being logged for this purpose.
Coir ply has all the properties of phenol-bonded ply with the added strength of fibre reinforced phenol bonding. It has high degrees of surface abrasion resistance and resists contraction/ expansion due to variations in temperatures.
Coir Ply
Coir Board brings out a number of publications which includes magazines, hand books and guides, Coir news booklets and VCDs which gives information about the latest trend in coir industry. Coir Board will participate in Eleven International Trade Events during Year of 2013-2014.
Coir Board will celebrate diamond jubilee with a host of

programmes

. It includes road show from

Kanyakumari

to Kashmir, an International coir fair at New Delhi from November 14-30th , exhibition of different coir products at

Pragati

Maidan

,

Dilli

Haat

and

Chethanalaya

at New Delhi. Besides the board will conduct national and international seminars and a buyer seller meet at

Vigyan

Bhavan

, New

Delhi.

Special stamps and coins will be released to commemorate the occasion.
*********************************************************************************
MISCELLANEOUS :-
1. Rs 10 coins to be issued on diamond jubilee of
Coir Board.
2.


High-Tech Coir Park, Kollam
High-Tech Coir Park at kollam established as ancillary unit of NCRMI in 2001. Right from the inception it is actively involved in skill development of the workers especially women folk through various training schemes and programmes. The activities of the park are being managed by the Governing Gody of NCRMI. The park is located at Perumon in Kollam District. The district has got many favourable factors such as skilled workers, raw materials, proximity to technical institution etc.
3.
The coir industry is fully developed only in India and Sri Lanka, but economically important in Brazil, Indonesia, the Philippines and Vietnam. Coconuts are typically grown by small-scale farmers, who use local mills for fibre extraction.
Globally around 650 000 tonnes of coir are produced annually, mainly in India and Sri Lanka. India and Sri Lanka are also the main exporters, followed by Thailand, Indonesia, Malaysia, Vietnam, and the Philippines. Around 80 percent of the coir produced is exported in the form of raw fibre. Smaller quantities are exported as yarn, mats, matting and rugs.